QCC5124, the heart of 5K, embeds dual-core 32-bit KALIMBA DSP running at 120MHz. 
*CSR8675 has single-core 24-bit KALIMBA. 
Moreover, the new operating system for KALIMBA DSP enables the device to support more flexible and versatile audio processing capability.
Users can control every setting through the companion iOS/Android mobile app. The settings are controlled over BLE (Bluetooth Low Energy) link and stored in the 5K automatically once changed. 5K stores all user settings internally and reloads them at the boot-up. 
Bluetooth A2DP or USB Audio Class is selected automatically as the audio source, one at a time exclusively. The DSP processes the incoming source audio from Bluetooth or USB, based on the user configuration stored in the device.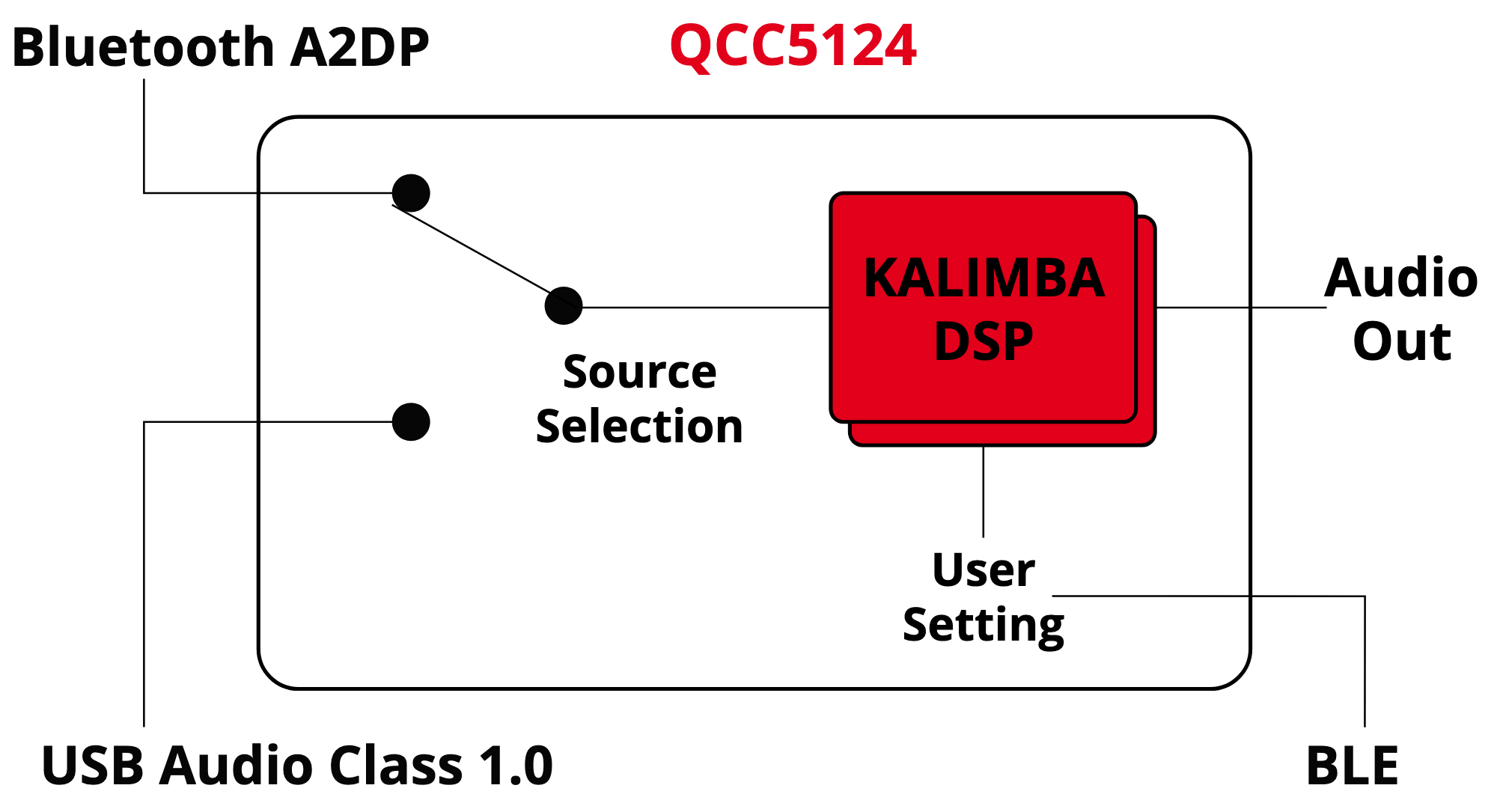 Qudelix-5K keeps the Bluetooth link with your smartphone, while connected to PC as a USB DAC. In this use case, the primary audio source is Bluetooth A2DP, and the secondary is USB. The internal logic selects the source automatically, upon the presence of any sound.
10-Band PEQ/GEQ (64-bit double precision)
The embedded pro-grade equalizer is a vital benefit of 5K DAC/AMP over other similar products. It processes every incoming source audio from everywhere: Youtube, Apple Music, Spotify, iOS, Android, PC, Bluetooth(all Codecs), and USB.
For more degree of freedom, 5K DAC/AMP supports parametric EQ in addition to graphical EQ. The embedded DSP cores perform double-precision 64-bit EQ processing, providing the most accurate and precise frequency response even at low-frequency range.
*Refer to the below link. You will find the reference EQ presets for many popular earphones/headphones.
https://www.reddit.com/r/oratory1990/wiki/index/list_of_presets